See on Scoop​.it — AnnBot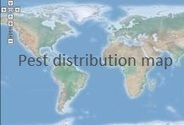 release of the Plantwise Knowledge Bank, the open-access inform­a­tion resource from CABI cov­er­ing crop pests and diseases.
Plantwise is a global pro­gramme to improve food secur­ity, alle­vi­ate poverty and improve live­li­hoods. Plantwise helps devel­op­ing coun­tries estab­lish a net­work of plant clin­ics run by CABI trained 'plant doc­tors', where farm­ers can bring crops afflic­ted by pests or disease.
With dia­gnostic tools, treat­ment advice and pest dis­tri­bu­tion inform­a­tion, the Knowledge Bank was designed to sup­port those involved in plant health in devel­op­ing coun­tries, espe­cially plant doc­tors. However, as this inform­a­tion is of value to a wide range of users we also invite all work­ing in plant health across the world to access the resource.
The Knowledge Bank con­tains a range of fea­tures, all of which can be filtered by coun­try, including:
·         Interactive pest and dis­ease dis­tri­bu­tion maps
·         Thousands of fact sheets and data sheets on plants and their pests
·         Diagnostic tools
·         New pest alerts
·         The latest news on plant health from around the world
The Knowledge Bank is cent­ral to the Plantwise pro­gramme, provid­ing truly global inform­a­tion sup­port. From uni­ver­sity aca­dem­ics, to small­holder farm­ers, the know­ledge provided will bene­fit the entire plant health com­munity.
See on www​.plant​wise​.org