See on Scoop​.it — AnnBot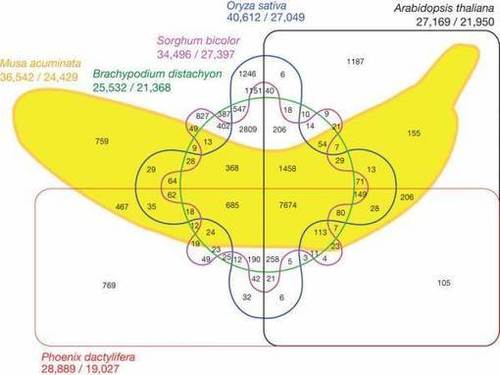 "It didn't take long after the journal Nature put online the art­icle on the banana gen­ome sequence for blog­gers to start com­ment­ing on the Venn dia­gram fea­tur­ing a a bright yel­low banana. David Ng at Popperfont qual­i­fied it as, "quite pos­sibly the most com­plic­ated (and there­fore awe­some) Venn Diagram ever". Jonathan Eisen, the sci­ent­ist who coined the term phylo­ge­n­om­ics, said that it was "per­haps the best gen­om­ics Venn dia­gram ever", while Joe, of the It's okay to be smart blog wrote that it is "a pretty genius way of deliv­er­ing a bunch of banana data all at once". He added that it was the first time he ever saw a six-way Venn dia­gram. Joe is right to be impressed, but the truth is that this is not the first ever six-way Venn diagram.
As a graphic designer cor­rectly noted, the dia­gram was inspired by Edward's six-set Venn dia­gram. I can con­firm this because the bioin­form­at­ics sci­ent­ist who did the num­ber crunch­ing and the Venn dia­gram for the Nature art­icle is a Bioversity colleague.
It says a lot about the banana that its dis­tinct shape would make people notice an oth­er­wise arcane dia­gram. "
See on www​.pro​musa​.org